Custom-made furniture workshop
Right at the heart of the Verbruggen Group in Brussels is the woodworking and carpentry workshop. Our teams produce tailor-made furniture  made of solid wood, with laminated or lacquered panels.
Our craftsmen and women are experts in both traditional techniques and new digital technologies, allowing them to produce unique, durable furniture that is perfectly adapted to your interior. From design to installation, our experts in wood, cutting and installation take care of everything.
Unique furniture with high added value
Can't find furniture for your offices, living room, bathroom, kitchen or bedroom anywhere? Our woodworking workshop will guide you through all the stages of designing your tailor-made furniture.
Preparation of detailed 3D production using CAD/CAM software
Any custom work: kitchens, walk-in closets, cupboards, wall panelling and screens, architectural furnishings, special doors, partitions with integrated door, cellars and wine cellars, fireplaces
All types of panels, solid wood, veneer and man-made materials
Spray-painting booth: custom lacquering and varnishing, customised dyeing
Fabric and leather coverings for furniture and partitions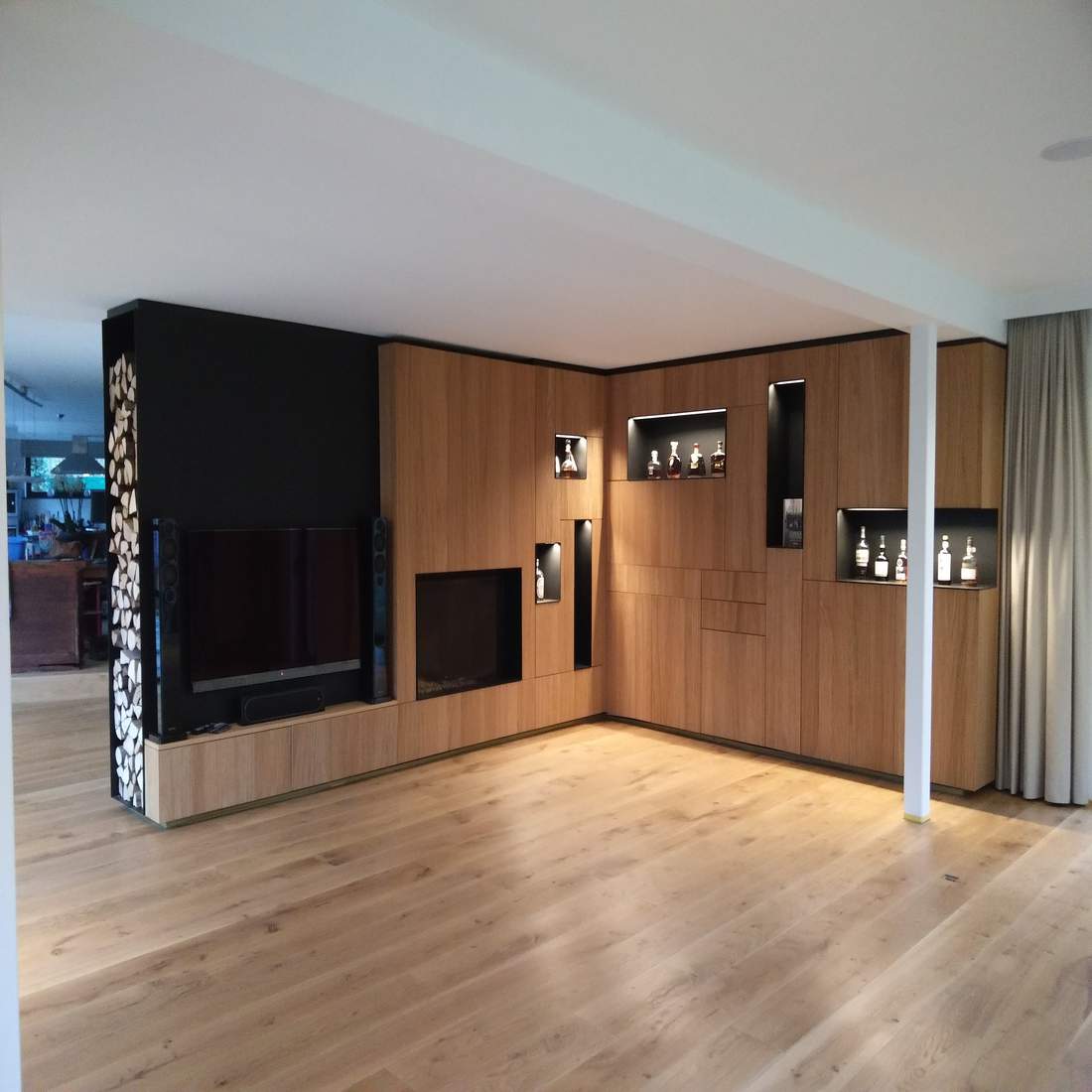 Custom furniture and personalised finishing work
 The real strength of our woodworking workshop is our design office. Our experts are available to help design your built-in furniture or improve your working drawings to ensure the quality of the furniture produced.
The way we work allows us to incorporate all aspects, right down to the smallest details, to ensure the furniture is completely ready and aesthetically pleasing.
We also have our own lacquering workshop, which is a rarity among woodworking workshops. This coat of paint, dye or varnish adds a special finish and makes each piece of furniture we produce an outstanding product.
All custom furniture projects are carried out in our workshop by experienced carpenters with exceptional expertise. Both traditional and modern, the 3000 m2 workshop is fully equipped and automated.
Special customised furniture
 For over 40 years, the Verbruggen Group woodworking workshop has been working to help customers in its local area (Brussels, Flemish Brabant, Walloon Brabant) and throughout Belgium and the Grand Duchy of Luxembourg find answers to their specific needs.
Examples:
Active in the hospitality sector, you need a perfectly fitted counter with water supply, integrated pumps and control panel.
A private individual, you want customised storage furniture for your walk-in closet or library.
Does your job or role require special furniture?

Executive desk
Reception furniture
Conference room, clean room or trading room furniture
Relaxation area furniture